How to add adsense banner ads in inside blog post in website:
Adsense is the greatest way of income for professional blogger, due to its high CPM rates almost 2 + million publishers are using adsense advertisement. Adding special size of adsense ads in side of your blog post gives more impression and high click rates. Instead of putting infeed ads or in article ads, you can try with these text and display ads.
It is having different type of ads.
720 x 90 Leaderboard
336 x 280 Large Rectangle
320 x 100 Large Mobile Banner
300 x 600 Large Skyscraper
Responsive ads, auto adopts to your widget size
Example see below adsense banner ad:
Using any of the above ads, inside of you blog gives greater income. Let see, the step by step guide to add adsense banner ads in inside blog post in website.
Login to your adsense account
Go to My ads => + new add unit
Then go to select text and display ads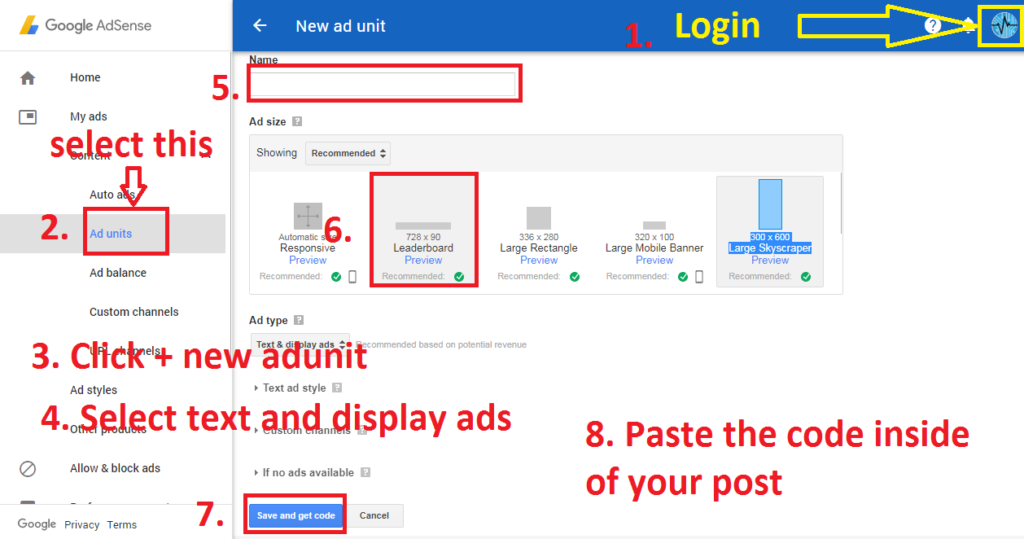 Login to admin panel of your blogger blogspot or WordPress website or WordPress blog
Select the post which you want to show adsense banner ads
Go to HTML page in content editor for blogger blogspot and go to text edit in WordPress content editor page for WordPress website.
Past the adsense banner ads code in between the post content
Do not forget to put align code,
In Below mentioned picture, the yellow codes are called alignment code.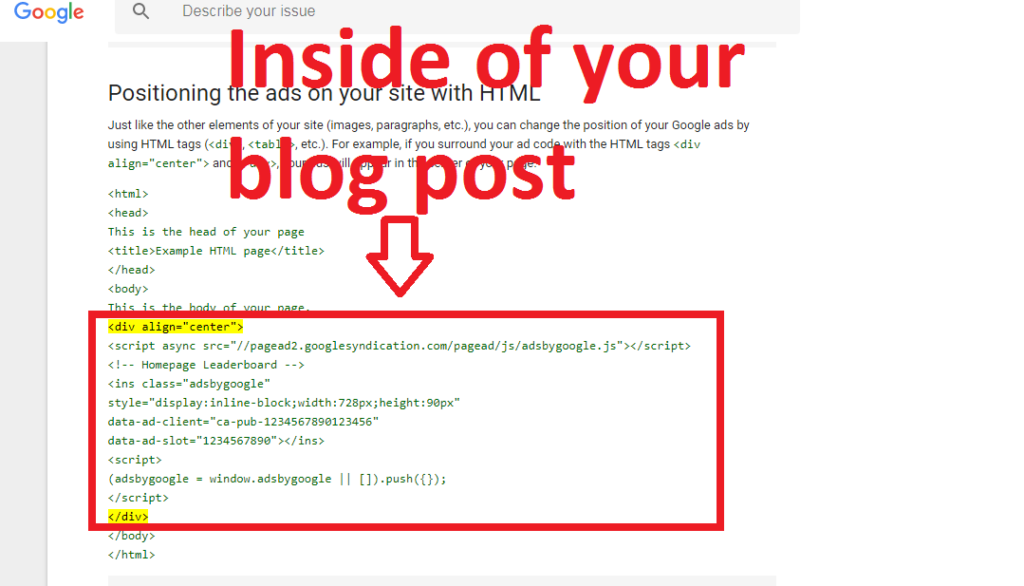 That all you have successfully pasted adsense banner ads in inside of your post
Within 20 to 30 minutes your adsense banner ads become live…
Conclusion:
Guys select any type of banner ads, I suggest to use 720 X 90 type banner ads, because it gives higher cpc rates as compared with other adsense banner ads. Also 720 X 90 type banner ads occupy less space. If you have any doubt on this feel free to contact.
In this post we have seen how to add adsense banner ads in inside blog post in website