How to add google language translator on website:
Google offers us to change their blog post language (over 100+) to attract foreign visitor. But only one condition is your blog post should be well written and there should not be grammatical mistakes. Because grammatical mistakes lead to different meaning about your content. Finally creates irritation about your website to your visitor. So if you have well written post in your described language, choose these tools. Here we are going to see the simple step by step guide to install google language converter in your website.
In this tool, your visitor visitors can translate any webpage by clicking on the corresponding country flag and read your website in their native language. It is fully automatic and free Website Translator plugin expands your global reach quickly and easily.
Today, people are blogging in multiple languages to create a conversation with readers outside the English Speaking blogosphere. Even adsense also is approving multiple language, recently they have added tamil language. Free language translation tools let bloggers post messages simultaneously in English, German, French, Spanish and other languages.
With over 65% of web users speaking a language other than English, providing the means of translating websites with English content to another language is very essential. Your multilingual website becomes more accessible and popular if users can translate your website content into their native language.
Let see the steps to add google language
translator to your website for blogspot.
1. First you need to do this is click the google code generator Link.
2. After wards you will see a new window or tab with google translator website
3. Click add your website
4. Paste your website url and select your post content language. Click next
5. It will go to plugin setting. There select Translation languages, display mode, and how to show the translator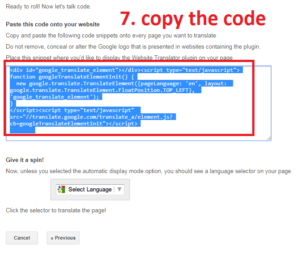 6. Click get code, you will get HTML code. The code has to be pasted in your website.
7. Login to your Blogspot website
8. Click layout => add widget => select add HTML/java script => paste the google translator's code at your new gadget area. => save it
9. That all you have success fully added google translator in to your blogger.com
Steps to add google language translator to your website for wordpress:
For WordPress website you do not want go to google translator official website and do not want to get the code. You just install one of the google translator plugin. That is enough to change your language in to foreign language
1. Login to your WordPress admin
2. Go to plugin => add new plugin => search google translator in search box
3. Select any one of the plugin. Select most active installation always. Otherwise click this to get the plugin
4. Go to setting for the particular plugin => Select all language
6. That all you have successfully added google language translator on your WordPress website