What is Image alt attribution for blogger:
This word image alt attribution is very important in the blogging work. Almost 20 % of the top blogger website is receiving traffic from the google image section. But Many bloggers almost 99% they really do not know about this word is called image alt attribution. It is very important for photo uploading blogs and for other blog it is important while uploading a post thumbnail. This is doing major role in image SEO. This is the most significance topic in google image guidelines. Let see how to do image alt attribution.
For Beginner: How to create free website in blogger.com
Also see: Create Free website in google
First, what is image alt attribution:
Image alt attribution means you are giving credit to the original image creator and you are describing the image in simple words. It contains author details or its photo original source link and the details about images.
Let see technically What is alt attribution
Alt attribution
Alt text
Captions
Title Text
Alt attribution:
Giving credit to the image creator, It is available only in WordPress blog Not in blogger blog.
Also see: Top 10 Best Blogging platform in the World
Alt text:
Providing detailed information about images. If you are uploading an image (dog is playing) with different name such as IMG007.png which means google does not identify what is this image, so that you have upload the same image with described manner such as dog is playing in the ground and so on.
Caption:
This is very important in image SEO. Let see in downside…You are just scripting about your image you upload to your users. Always try to create this with focus keyword to improve your focus keyword.
Also see: How to get First rank in google without SEO
Also see: Top 20 Ways to Get traffic for your blogger
Title text:
This is the tile for alt text.
More: About Blogger and wordpress details
Why Image alt attribution is important to SEO
Example: if I am searching a keyword in google "how to earn money online" in this you can see the website "savethestudent.org" and its data in first in google search. But in this you just go to image section. Here you see the first image is not the same website and the resultant website is "surejob.in". actually why? Because surejob.in is providing the exact alt text and alt attribution to their image. That's why their image got first rank in google search. Many users always prefer to visit first shown image only. So they image owned website automatically get traffic from google image.
Refer these Images in google search: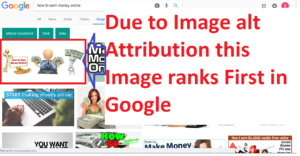 Ok let see how to do image alt attribution:
Step1. Always save your image with focus keyword (image to be uploaded)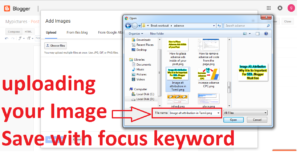 Step2. Login to your blogger dashboard => Click post section => Click new post => Click on image upload icon
Step3.  Upload the image => after uploading image just click on select
Step4: You will see your image in your blogger content editor.
Step5: Click on the image => You will see blue color image setting => Click on Image properties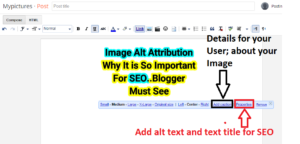 Step6: There you will see new pop up small window and there you have to enter your described image text tile and alt text. In title text, just provide your image short name i.e. if you provide the name with focus keyword that will be a better; Next just enter your alt text and give small description about your image. Just save it.
Step7: After Click caption on the image settings => Describe about your image to your user understand about your images. Save it.
Also see: Best Online Free Content website
Conclusion:
Guys image alt attribution is the most important for driving the organic traffic to your blog. Do not be lazy to do this job. How much you are putting the effort to create a content, the same effort to be put on the image alt attribution for SEO. Guys if you have any doubt you can feel free to comment me.