15 Google Chrome Extensions for Bloggers Must use:
Blogging is really hard to survive in online and there are lot of content thief and we have to create greater content and publish it and share it in social media, appa it takes minimum one day for creating everything…Also If you want to grow your website, you will have to spend lot of time and effort. Blogging, means creating a home by single. There's no other way. You must do that and you cannot skip. But there are some that you can make blogging simple ways I mean the whole process can be done faster. In this article we are going to see such one of the tool which is chrome extention. These extention helps you to save some valuable time, increase your content productivity and the same way you can get more revenue.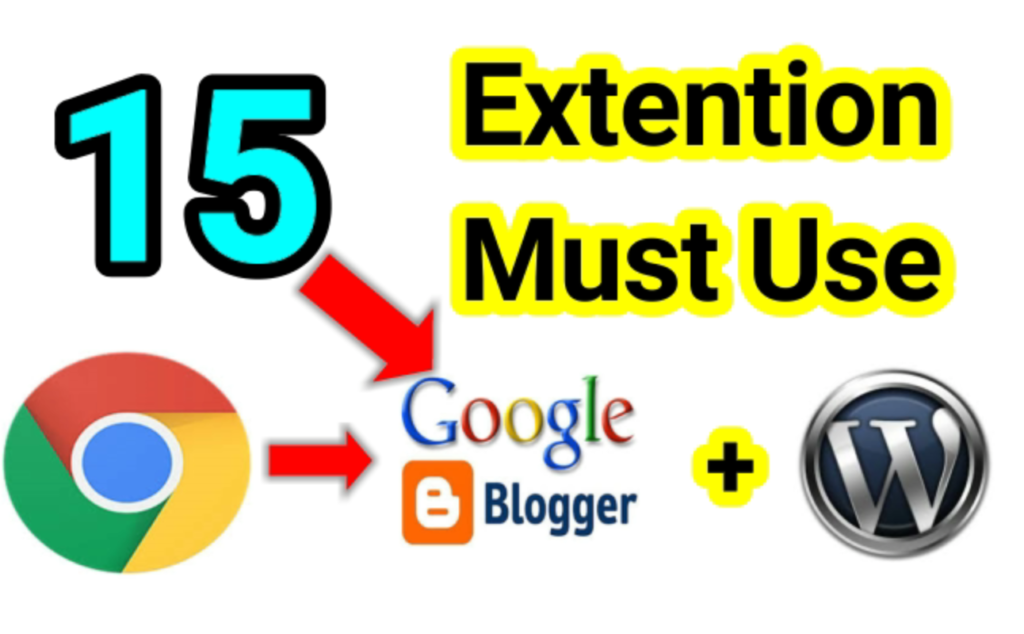 Let's start the best chrome extention for blogger.
For Beginner: How to add chrome extention step by step guide
Best Google Chrome Extensions For Bloggers
This is the best chrome extention for blogger which Used to share the browser url to public media such as Facebook, twitter, LinkedIn, google+ etc. Just one click you can share them in public platform. It saves your sharing time in public media, by selecting the chrome extention icon you can do your process. Also you can make your sharing in scheduling.
It is googling free product. This is dictionary extention. Each time you do not want to go for searching in google or dictionary to know about unknown words. In this by selecting the unknown word and after that by clicking on the extention icon, that word whose meaning you can come to know.  This is best extention for blog beginner. Those really hard to write in English content.
This is the best Google Chrome extension for tutorial blogs such as blogging tutorial, wordpress tutorial or other online application tutorial and When you need more screen shots. It's easy to use, offers tons of options and is totally free. One of the best things about this tool is the number of options it provides when it comes to taking a screenshot. The specialty of this chrome extention is You can capture the whole page or a selected area or the visible area you want to do.
Also Screencast, record screen as video. Screen capture for full page, annotate, blur sensitive info, and share with one-click uploads.
4. Google Publisher tool
Are you using adsense or DoubleClick ad exchange program then this tool helps you to increase your revenue by reviewing your ads placement. Using this tool, you can click your own adsense ads. But do not click your adsense ads without using this extention. The Google Publisher Toolbar adds an overlay to each of your Google ads, which provides some basic information about the ad, including its size, display URL and the advertiser name.
Clicking on the overlay generates an Ad Details pop-up with more detailed data including:
A link to the ad's landing page, allowing for safe clicks.
Summary reporting on the ad unit including performance metrics, such as clicks, RPM and estimated revenue.
The buyer name.
The display URL.
From the Ad Details pop-up, you can also take action on an unwanted creative to block the ad, the URL or the ad network, or send feedback to Google.
This is best google chrome extention for blog beginner.
This is the great chrome extention for Indian those are having lack of English grammar mistakes. This chrome extention is giving best suggestion for your online content's grammar mistakes. Also if you do not want the extention suggestion means, then you can simply skip it. This is user friendly extention. This is fully free service and additionally you can check your content plagirism.
Also grammarly pro version offers:
➤ Check for over a hundred additional types of errors
➤ Get vocabulary enhancement suggestions
➤ Detect plagiarism and get citation suggestions
➤ Get suggestions for different writing styles, including academic, technical, and creative
I would like to say this is as "addiction killer". Very useful chrome extention for blogger those who are wasting time online. Are you want to avoid Facebook or any social media or want to escape from porn sites ? the answer is use this extention. Spending time on social media does not pay your home rent. This extention restricts the amount of time where you spend on time wasting websites such as Facebook, youtube, twitter, etc. what you have to do is, Just add the website that you want to limit and set the daily limit. This extention calculate the time and if you exceed the presetting time limit, StayFocusd chrome extention blocks these websites and doesn't allow you to visit them until the next day comes.
This is awesome chrome extention, that makes you successful blogger. This quite interesting extention, but many big bloggers hate this extention, because this extention crack all the content blocks. It is used to block any website's java script, CSS code, Image seo tools etc.. Big blogger or big website to keep their content from copyright use, they use Java script and CSS code. These codes are used to disable right click, disable text copying, disable text selection etc.
But using this extention you can easily breaks their codes.. and you can easily takes their content or download their content.
If you want to grow you blog, this is the best chrome extention for all the time.
Improve how you experience the web in Google Chrome and other Chromium browsers by blocking pop-ups and pop-unders, including anti ad blocker overlays that tell you to turn off your ad block. Poper Blocker intelligently blocks spam pop-ups on any site, including javascript popups and overlays. Poper Blocker is the industry-leading popup ad blocker.
It is used to blocks pop ads from various website.
9. Video Downloader professional:
If you are having video hosting website, then this plugin is very useful for your video blogs. It is very simple and easy chrome extention make you to download any video. It just reads all download links and if any video files are there, then this extention icon color changes from black color to blue color. By clicking on the icon you can come to know the all available video files and by selecting your desired file you can start downloading the video.
This is useful chrome extention for blog readers and blogger. It is used to check the webpages broken link. To use this chrome extention, you just have to click the extension icon, and it marks broken links in the web page with a red background making them easily visible. Also you can enable options to display error code and the code's number of backlinks for every link on the web page. Another most important feature of this tool is, that it also displays important SEO metrics for Google search results.
11. Open SEO Stats:
This is very powerful SEO extension for Chrome. Open SEO Stats shows your/others website's Google PageRank, AlexaRank, and QuantCast Rank of the current webpage. Also additionally it gives the information about the webpages backlinks, indexed pages, cached pages, socials, Whois (website identity), Geo IP location, etc. By just putting one click on the extention, open seo stats gives you a complete and overview of a website's SEO stats, traffic stats, page information, link stats, page speed, and other information.
This is best extention for researching for an article online. Save pocket allows you to save article's webpages in your save pocket account. It is free extention.  Let see what you can do with save pocket,
* One-click saving of any page with the toolbar button or keyboard shortcut
* Right-click on the page you want to save any link, no need to load the page first
* Quickly add tags
* See related recommendations when you save to Pocket
* Syncs across all devices – iPhone, iPad, Android and more
* Completely free
This chrome extention is Used to edit your office file in your browser itself without installing Word, Excel, PowerPoint, OneNote, and Sway Online.
This extension allows you to save web content directly to Google Drive through a browser action or context menu. You can save all documents, images, and HTML5 audio and video all by right clicking and selecting 'Save to Google Drive'.
You may ask why this chrome extention?. It is important to get international visitor to your blog. Using this extention you can translate your webpages and you can alter your content according to your targeted country language. If you translate webpage directly, it does not give correct meaning. Using this tool, you can make your content meaningful for different language.
Example: I only know English (only good readability) but I do not know much about English writing. But I know hindi well. But if I convert directly from hindi to English, it does not be meaning full, So that I can convert my hindi content to English, and I will make it in English with good meaning full.