Copyrighted or Duplicate content detection Tool or Plagiarism Checker:
Blogging is the best way to money earning platform in the world. But some of the bloggers create own content, some body steal the content, and Someone purchases the content. So if you create a content its ok, But, if you are going to purchase a content means, it should not be copyrighted or should not be stolen content. So that in this tutorial we are going to see the Copyrighted Content Detection and duplicate content detection tools.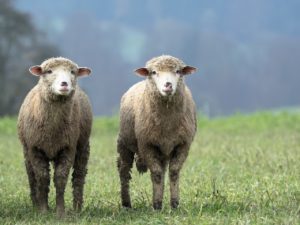 What happens if someone uses your content:
Rejection/Omitting in search engine, the creator search engine rank reduces because search engine detects Same content with two URL. So it just displays, as per country locality. I.e. if I am copying content from US website and publishing same in India. Here the search engine prefers my copyrighted content only because of, it is local content. So that search engine identifies, omit the same content which is in the US. Your page rank will be reduced.
Losing traffic from other countries, Ex. Take the same situation, take a common country like Australia, If suppose My copy content is having good user experience and the content creator is having low user experience means, My content will come in search place in Australia, because of good user experience. I, the theft takes good traffic form your content. You, the creator takes low traffic.
What is Plagiarism:
Plagiarism means to steal something and pass it as own or use others production without giving credit to them. Let see how to find ….
Also See: Escape copyrighted content detection, Top 10 online free article editing tools
Note: Guys all the Plagiarism checker Links have given in respective headline

This is online free tool, is used to detect copyrighted content. In this, you can check some particular content only. You can check upto 5000 characters of content in the free version. But in pro version offers unlimited content originality check, URL check and unlimited file comparison check. They have two category of content checking, one is quick search and another one is deep search. Quick search allows only maximum 10 sec, I tried but after 10 sec I got the file not found…..

Here find the cost comparison…..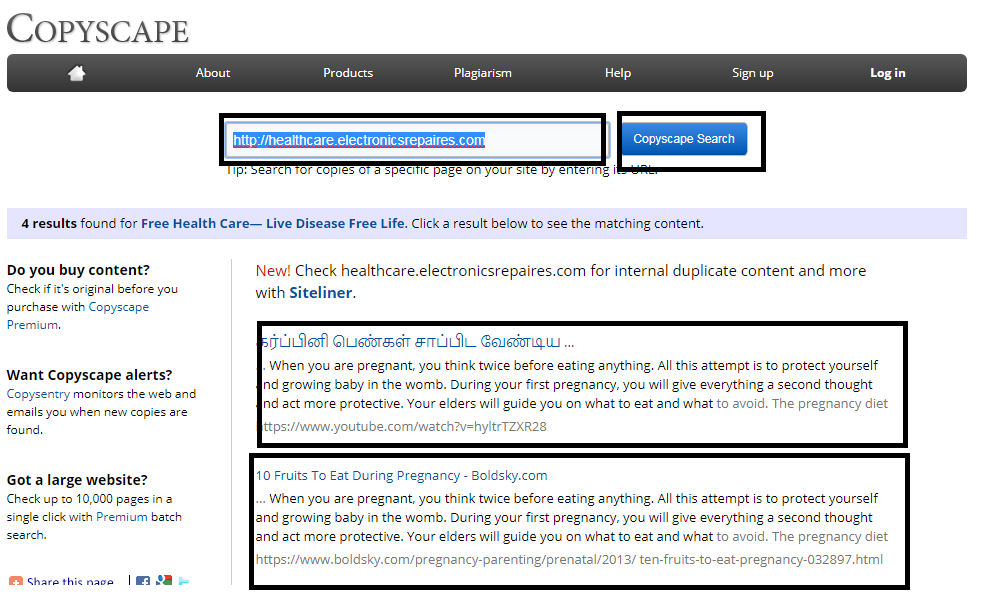 This is another best tool for Copyrighted content Detection and duplicate content detection tool. In this, you just copy and paste the URL to be checked, it will scan automatically, and detect the result. This is better than plagium copyrighted content detection tool. It will give entire result with URL,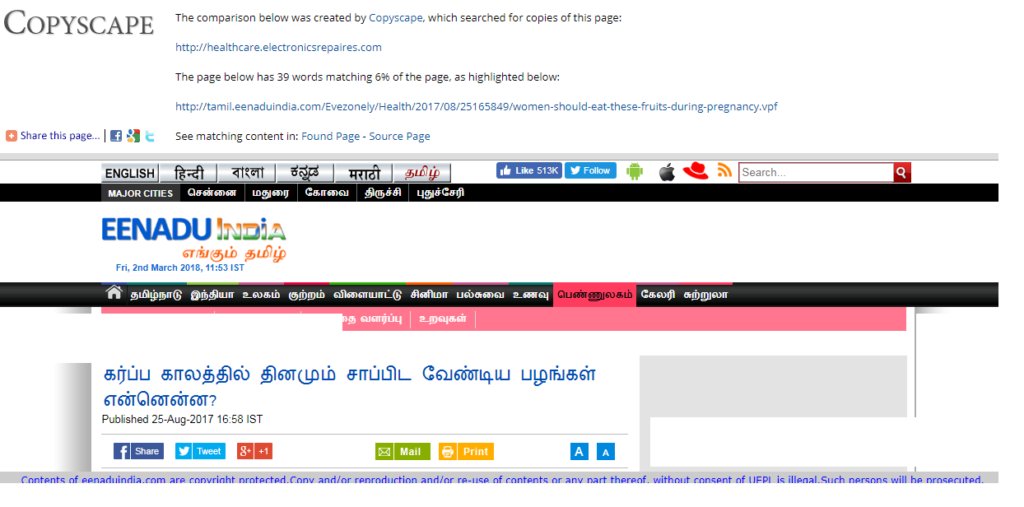 Also they are offering free banner "protected by Copyscape". This banner prevents some one copy your content.
Siteliner is an online free Copyrighted Content Detection and duplicate content detection tools. Duplicate Content detection- Duplicate content can lower your site's search engine rankings, reducing the traffic to your site. Siteliner systematically checks your site for internal duplicate content, highlighting it on each page, intelligently excluding common content such as menus and navigation.
Broken Links – Broken links can damage your site's user experience and lower your site's search engine rankings. Siteliner checks all internal links on your site to ensure they are working, and highlights the broken links so you can fix them easily. Siteliner provides a standard XML Sitemap for your site, as well as a more detailed Siteliner Report.
This is online free tool; it just redirects to google search with double colon. "your content to be checked"…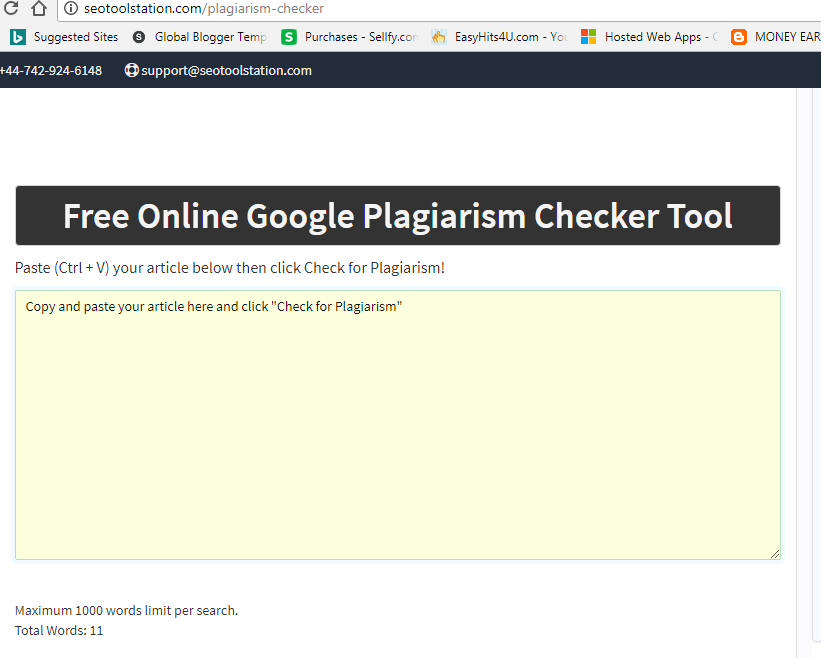 You can check the copy righted content using google search. You have to just copy paste your content with double colon as shown in the picture. "your content to be checked" in this maximum 32 characters are allowable.
This is also used to detect copy righted content.  DupliChecker.com is a plagiarism checker which is free online. If you only need to do a quick, one-off check, simply paste your text in the specified text box which is located at the top of the page. It will give you immediate results with no registration necessary.
To use DupliChecker.com more frequently, register here [LINK] to create a free account. Registered users enjoy up to 50 free plagiarism searches a day on DupliChecker.com, whereas guest users can only do one per day. You will not have to pay anything, and DupliChecker.com is free to use for as long as you require.
This tool allows you to determine the percentage of similarity between two pages. The exact percentage of similarity after with a search engine may penalize you is not known, it varies from search engine to search engine, your aim should be to keep your page similarity as LOW as possible.
To use this plagiarism checker, please copy and paste your content in the box below, and then click on the big green button that says "Check Plagiarism!" then sit back and watch as your article is scanned for duplicated content. It is totally free online tool.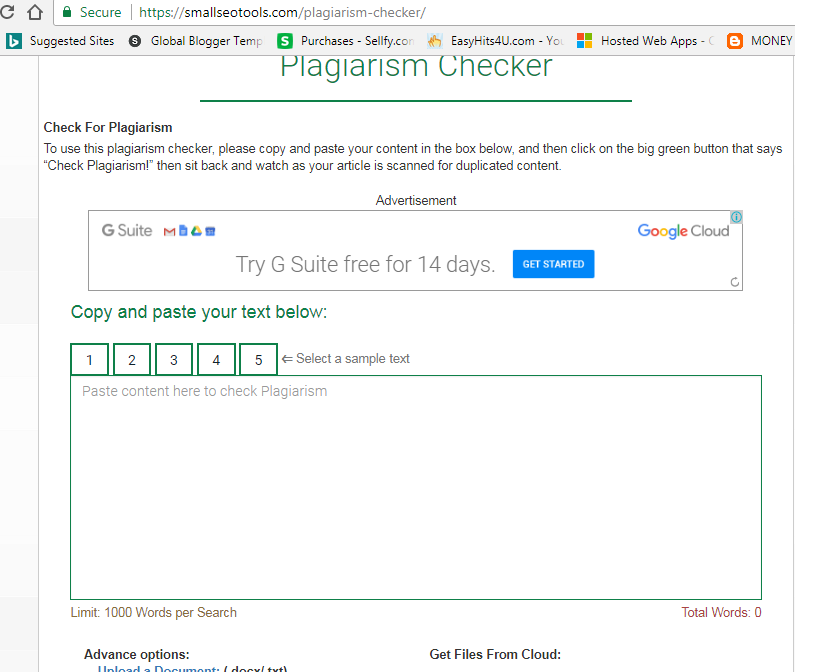 In this you can check your content originality. Also you can find your stolen content. To check plagiarism free, all you have to do is paste your content that you want to check for plagiarism and click on the submit button. Now let their online scan tool handle rest of the things. Get the report.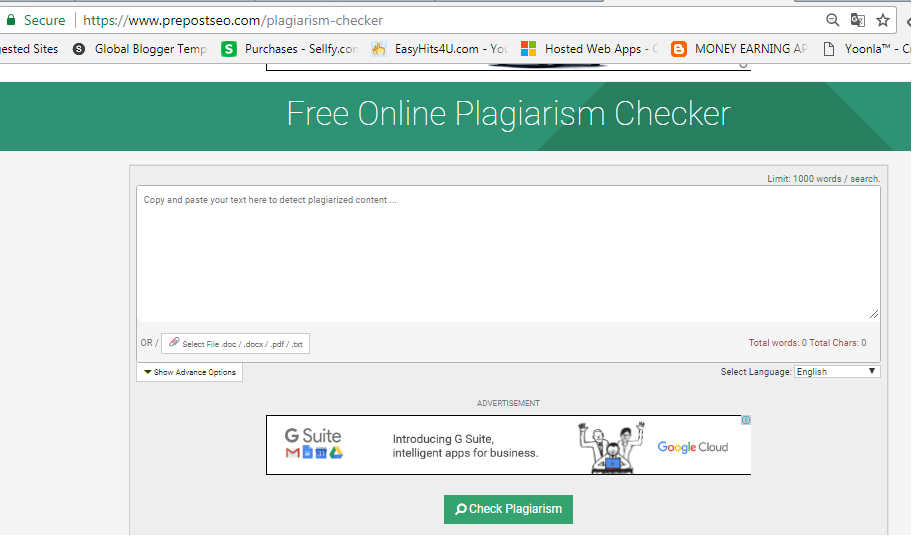 Seomagnifier:
Scan your URL and content….