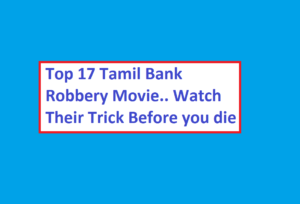 Tamil Robbery/stealing/heist Movies list all the time:
In tamil language, some of the best bank robbery or stealing money movies from any one or heist movies are there. In this we have listed out the tamil bank robbery movies / stealing movies for you.
Rajathanthiram
This is little bit different movie, that's it got first rank. They plan, execute and inform to police how they are planning to steal money. But no one cannot confirm it as robbery. Nice Tamil bank robbery movie. They start from a bike stealing, and then they step in to a famous jewel owner.

Mankatha
Two cop are planning and executing a stealing plan . Ajith and Arjun who are acted in major role.
Nanayam
Sibiraj and Prasana is planning and exciting for their robbery plan and they are not succeeding after all. But you can see some interesting thrilling action scene.
Gentle man
Ajun the movie actor is doing business and doing bank robbery as a part time job. And giving money to poor student and building a free medical collage to them.
Sathuranga vettai
Appa, amazing movie, the dialogue is superb. How people is cheating others By the name of " Mooda Nambikaikal". All Must Watch this movie.

Guru
Kamalakasam is acted in leading role. This is old and fantastice bank robbery movie.This is 365 days running movie.
Thiruda thiruda
Printed Indian currency, from the Reserve Bank of India security press at Nasik with an estimated value of ₹ 10 billion, is stolen by Vikram (Salim Ghouse), a gangster living in London.
En swasa katre
The actor Aravind samy steals money for his brother. His brother is threating Aravinth samy by his father.
Villan
Ajith steals money to protect some physically disabled student. Ajith acted in double action.
Soothu Kavum
Vijay sethupathi's block buster movie. Rally nice dialoged and story movie. If you have free time must watch this movie.
Also see: IPL match Watch Online Live 2018
Also see: Top 10 Free Movie Downloader to Download movies from Video Stream sites
Also see: Make Money Online With Proof and Work From Home get Free money
Also see: Top 35 Mobile Movies Bollywood in Hindi HD online Free Download sites
Also see: Top 20 Best Thalapathi Vijay Movie all the time For Thalapathi Fans
Also see: Top 20 Latest Bollywood Movies Download Website HD Online Free Watch
Also see: Top 20 Tamil Investigation Movies all the time
Also see: Top 20 Ajith Best Movies Thala Fans Must see
Also see: Top 5 Best Tamil Movies Of 2014 That Watch it Before You Die
Also see: Top 10 Children's Tamil Movies For Your Tamil kids
Also see: Top 26 Best Tamil Family Movie Can See with your Family
Also see: Top 21 Latest Tamil Romantic Hot Movies List
Also see: 2017 Tamil Movies List with Actors Name and Director
Also see: Top 35 Historical Action Sword Fighting Movies Watch Before Die
Also see: Top 15 Tamil Horror Movies Never Die Before Watch These
Also see: Top 5 Watch Latest Tamil Movies Online Free streaming with High Quality
Also see: Top 20 Best Tamil comedy movies Must watch before you die
Also see: Top 17 Websites to Download Tamil Songs HD online
Also see: Top 10 Tamil HD movies download Websites
Also see: Top 15 Tamil dubbed Hollywood movies download free websites
Also see: Tamil Dubbed Telugu movies download
Also see: Top 18 Websites to Download Tamil Songs HD online
Note: All Songs Website Link Click this
Also see: Latest Malayalam Movies Download Website
All movie website link: Click this
Also see: Top 15 website for Tamil new movies download
Also See: Kannada movies download website
All movie website link: Click this
Note: All Songs Website Link Click this
Thillalankadi
Jayam Ravi steals money for some unhealth kids to save their life.
Ayan:
Surya and Prabhu is doing smuggler business. Actor surya escape from airport is an interesting scene.
Ruthra:
Pakiyaraj stealing money from bank. This is not bank robbery movie, but the robbery scenes are really nice and comedy.
Sigaram Thodu
This is the movie about ATM robbery and the gang robber atm and the actor Vikram prabhu finds them all.
Thekidi:
This is an interesting movie. A private agent who finds the secret behind the accidental death. The gang kills people of their insurance money.
Kanthasamy:



Vikram is worked as CBI officer who steals money from corrupted politicians and delivering to poor people.
Thaana serntha kootam:
This movie is against corruption. Surya's another blockbuster movie, Surya cheats politicians as a CBI officer and taking rides to their house and stealing money from them and deliver to poor student.