What is adsense and what is CPC, CPM, CTR, Inside adsense:
What is Adsense:
Adsense is the ad program which is run by Google. Google allows publishers in the Google Network of content sites to serve automatic text, image, video, or interactive media advertisements, that are targeted to site content and audience advertising platform. It is free for everyone.
Note: Adsense is having strict program policy.
Why Adsense?
Because of Adsense is the best and highest CPM and CPC network as compared with another ad network media.net, Chitika, Infolinks, Revenue hits etc… it does not need high traffic. It needs only high-quality content.
What is CPM:
CPM means Cost per Mile. It means Cost per one 1000 impression. One ad displays at one time, that is called one impression. By this one ad displays, 1000 times means, that is called 1000 impression. In Adsense CPC and CPMs are geo-targeted. If you are getting a good traffic from high commercial country like US, UK, Canada etc, then your CPM and CPC rates will be high. Ex. You can get up to $ 35 per 1000 impression and $3 per click.
Note: low commercial country like Pakistan, Iraq, Bangladesh adsense pays 0.01$ per 1000 Impression.
What is CPC:
CPC means Cost Per Click. It is the measure of one click cost. Adsense is the highest CPC ad network. It pays upto 3$ per click in high commercial country and for low commercial country it pays $ 0.01 per Click.
What is CTR:
CTR means Cost through rate. It is normally Shown in percentage. it can be expressed as.


So in simple words, if you have an ad running and it's seen by 100 people but got only 5 clicks, your CTR is 5%. Point to be noted here is that higher the percentage of CTR, the better advertisement you will get. So it's advisable to place advertisements only at the places which are viewable and can be clicked easily.
What is Contextual ads:
When people click on the AdSense ads posted on your blog, you will earn money. (Remember to avoid clicking on your own ads, as this is a violation of AdSense policies.)
AdSense is a contextual ad network, which means that ads will be displayed according to your content. For example, if you are writing a post on web hosting, you are more likely to see ads related to hosting or domains.
Another way AdSense shows ads is by using the cookie method. Based on user search history, they display targeted ads which convert better.
In short, AdSense makes sure that readers will see targeted ads, and thus you will get more clicks and higher payouts than you will with any other ad network.
Types of ads display by Adsense.:
Text and display ads

Resposive ads
leaderboard 720X90
Large rectangle 336 X 280
large mobile banner 320 X 100
Large skyscraper 300X 600
Medium rectangle 300 x250

Infeed ads
In article ads
Auto ads.



Payout option:
Adsense is having minimum payout threshold of $100 through wire transfer or Payoneer or PayPal transfer.
How long does Adsense take to verify your site:
To verify your site adsense takes 4 to 7 days from the date of your application submission. Before that, you have to place adsense verification code in header tag properly.
About AdSense account:
Adsense allows two categories of publisher account.
Hosted account.
Non-Hosted account.
What is Hosted account:
If the adsense is enabled through google products youtube, which account is called hosted account.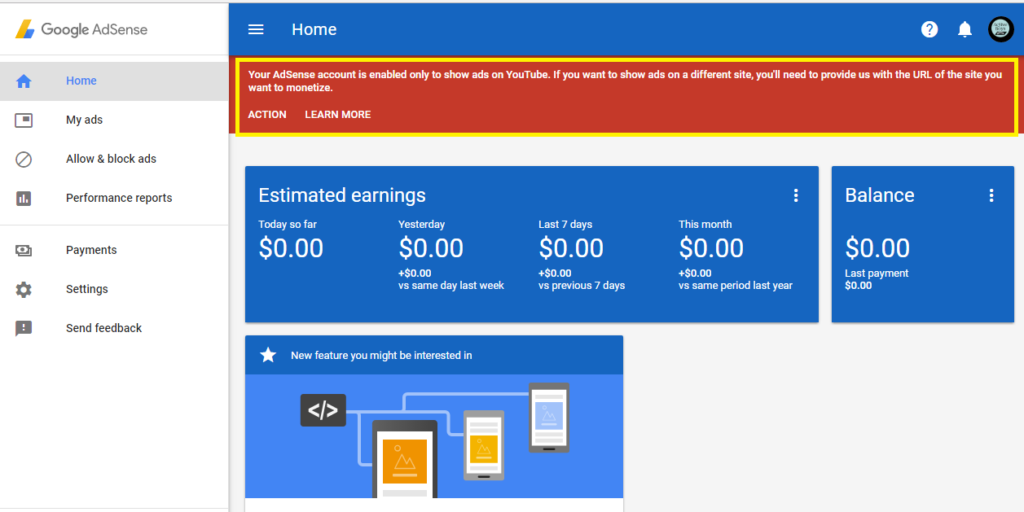 Note: If adsense the account is enabled through youtube, to show google ads on your website or blog, you have to get special approval. After getting approval for your website, the account changes to non-hosted account.
Also see:  Easy and Simple 15 Tricks Helps You to Getting Adsense Approval Faster than Normal Process. (Blogger and Websites)
What is Non Hosted account:
If the AdSense account is enabled through external website or blogger; it is called Non Hosted account.
Note: If adsense account is enabled through Blogger's blog means, you do not need to get further approval to show ads on your other website.
What is the adsense confirmation mail for the Hosted account:
Here I have enabled adsense account through afterwards I created a website and sent it for adsense approval. Once the adsense team confirmed/approved your account means you will get a confirmation mail as given below.
"Congratulations, your AdSense account has been approved to show AdSense ads on your own website. Within a few hours, you will begin to see live ads.
For a detailed walkthrough of everything you need to know as a new AdSense for content publisher, visit the Your guide to AdSense under http://support.google.com/adsense/bin/static.py?hl=en&page=checklist.cs&tab=1187443&from=1187514&rd=1.
Even after approval, we continuously review all accounts for compliance with our policies. If any violations are detected, your account may be disapproved or ad serving to your pages may be stopped. If at any time you are not seeing ads appear, we recommend that you log into your AdSense account and examine any messages that may appear.
IMPORTANT NOTES:
* Once ads begin to appear, please don't click on your ads, even to test them — doing so isn't permitted by the AdSense program policies (https://www.google.com/adsense/policies).
* You can add the AdSense code to a new page or site that complies with our program policies at any time. There's no need to inform us or apply for a new account when you do – once you have been fully approved, you may place the code on as many pages that you own as you wish. Please make sure our crawler can access any webpage you place ad code on – see http://support.google.com/adsense/bin/answer.py?answer=10532 for details.
Have more questions? You can find answers in our Help Center at http://support.google.com/adsense/, or the AdSense blog at http://adsense.blogspot.com. In addition, you can post your questions to the AdSense Help Forum at http://www.google.com/support/forum/p/AdSense.
Sincerely,
The Google AdSense Team   "
What is the adsense confirmation mail for Non Hosted account:
Here this account is enabled on my website.
Congratulations!
Your account is now fully approved.
Welcome to AdSense! We look forward to a long and successful partnership together.
If you've chosen to show ads as soon as your account is activated, you'll begin to see relevant ads within a few hours and can start earning money from your online content. Otherwise, go to the "My ads" page in your Adsense account to switch on the ads you want to show.
Remember, you can add your ad code to show ads on any new page or site that complies with our our program policies at any time.
See you online,
The Google AdSense Team