Cheapest Flight booking app Top 8 flight booking apps (Above 4.4 * rating), their offers, price different (case study):
Clear trip
Yatra
Make my trip
Goibibo
IRCTC
Paytm
East my trip
Ixigo
Clear trip:
Book domestic/international flight tickets and Hotels. They give upto 3,000 rupees' cash back on domestic tickets but you will get only 150 rupees' and 15,000 rupees' cash back on international flights. Before booking flight ticket put appropriate valid coupon in the coupon column and read their terms and conditions. These offers are limited periods only. See the cash back. Book the ticket using OLA money and other wallet. It does not refund against cancellation. Click this.

Yatra.com
You can book domestic flights, international flights and hotels. Get up to 500 cash back for domestic flight and 1000 rupees for international flights no promo code require. Get 300 rupees sign up bonus for downloading their mobile app. They accept all type of transaction (credit card, debit card, Net Banking and EMI). No refund on ticket cancellation.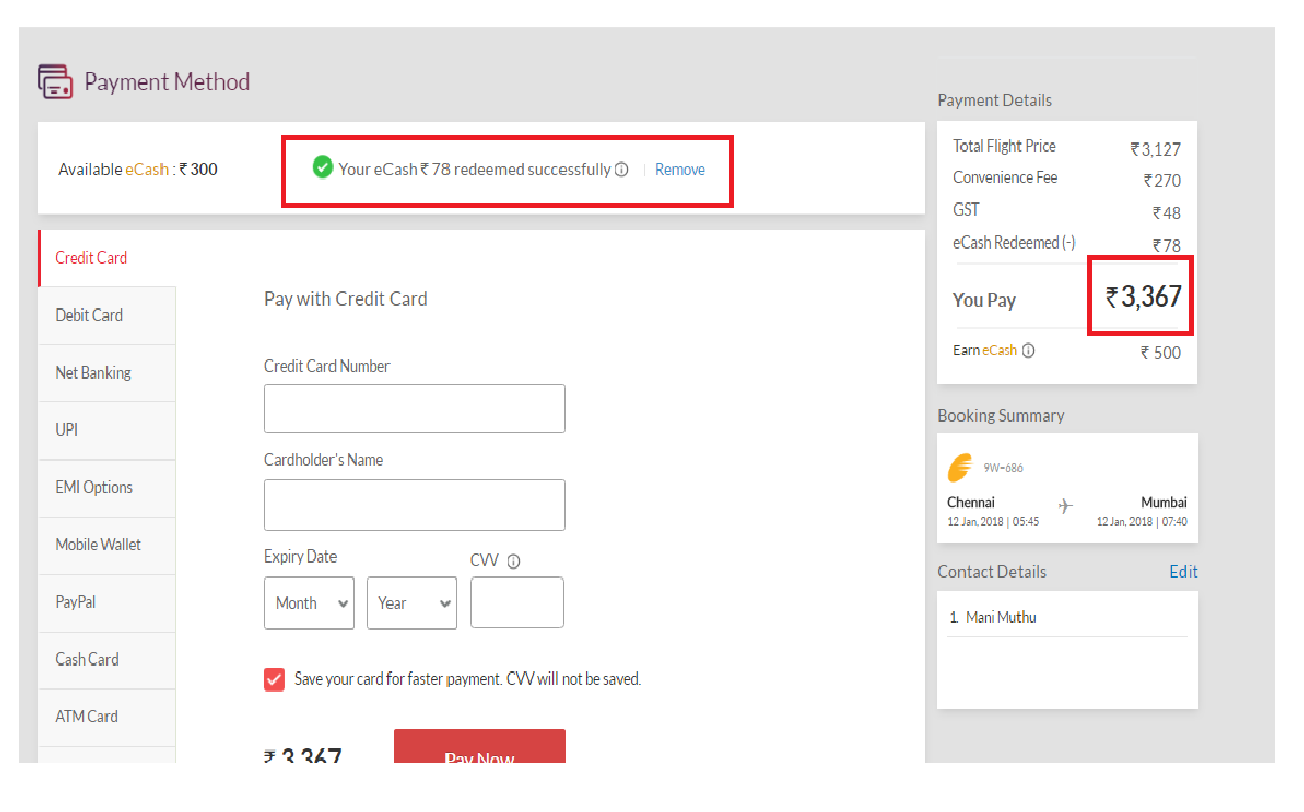 Referral Earning: You can earn 1500 rupees' yatra wallet cash (redeemable to your bank account) by referring your friend to yatra. Your friend has to download their mobile app by using your unique URL and he gets 2000 rupees as sign up bonus. Click this.
Note 1: Your friend should not have installed this app in his device before. If he does so, that's no issue. Please follow this way and before doing this you must backup all data
Change your IP address (by changing flight mode to normal mode) => system wipe data + clear cache => restart your phone => ask him to download mobile app => sign up with different ID => get referral fee both + enjoy.
Make my trip:
Book Hotels, holiday packages, Train, Cab and bus tickets. Get sign up bonus Rs. 555 with 7 days of validity. You can use maximum 20 % of sign up bonus for one flight ticket booking. they accept all type of transaction. No cash back against cancellation. Click this.
Referral Earning: Get Rs. 2300 non-redeemable, make my trip wallet cash. 1500/- for downloading mobile app and 800 rupees' for your friend first ticket booking in make my trip. He will get 2000 rupees as sign up bonus make mu trip wallet cash One person can earn maximum up to 7000 rupess.
Note1: See Note 1
Goibibo:
Book train tickets, flight tickets and hotel rooms. They have special scheme for student (above 12 yours must have valid ID card) tickets. Get some discount for student quota. Get 200 rupees Gocash, sign up bonus, you can use the full amount when the time of any ticket booking (maximum 500). This is the only platform offers us to use full sign up bonus amount. They do not give money for cancellation. Click this.
Invite and Earn: Get 300 rupees Gocash, you and your friend. Your friend has to download Goibibo mobile app using your URL, after completion of signup process your reward get credited. One person earns maximum 700 rupees per month. To earn more connect your contact with Goibibo network and get 50 rupees Gocash each time of your contact books ticket in Goibibo.
Note2: see Note1
Paytm:
Book flight ticket using Paytm cash and get 250 rupees' cash back after completion of booking. cash back credits to your Paytm wallet and it is redeemable to your bank account.
IRCTC
It is a government authorized platform for booking tickets on buses, train, cab and hotels. It is much costlier than other ticket booking networks. They include some additional taxes which cost us.
Easy my trip (cheapest flight booking app):
This is the only platform provide refund against cancellation on flight tickets. All other booking and transaction schemes are same. Additionally, they have linked with Phonepi e-wallet. This is the cheapest flight booking app.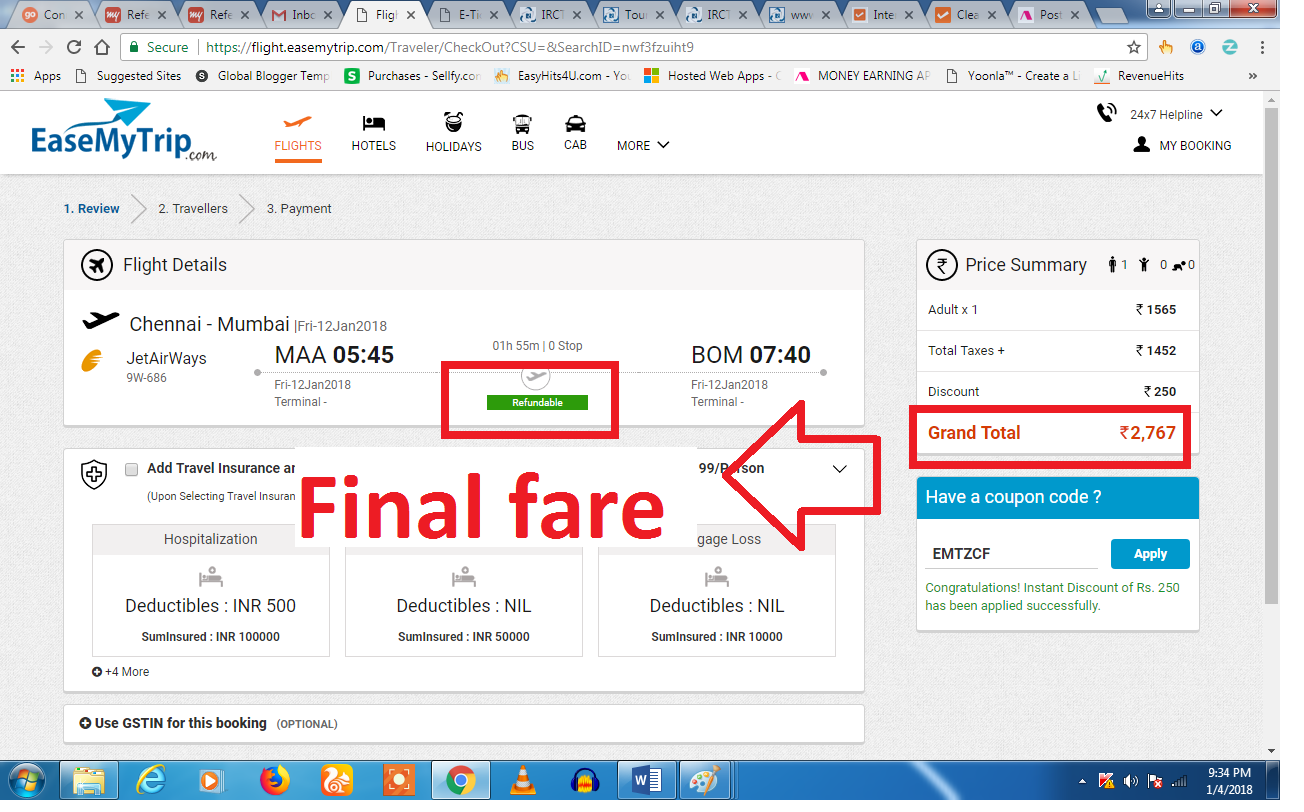 Ixigo:
This is the sister program of easymytrip app. Get 600 rupees off on your fight ticket booking.  Even if you book the ticket at this program it will redirect to easy my trip.com. You have to pay Rs. 600 + easy my trip ticket fare.
Conclusion:
Above figures are taken from live ticket there you can find which is the cheapest flight booking app. So right now you know where to book your flight ticket.
My recommendation: book ticket in Easy my trip.com which has low price and refund against cancellation.