Emergency loan app:
I am here to telling you the top 10 highest loan offering (app) and their interest  rates are low among other play stores apps. It does not require paper approval. Your mobile itself enough to get instant approval.
Early Salary
Money view Loans
Flexsalary
IndiaBulls Dhani
ATL (Any Time Loan)
Z2P
Shubh loans
Cashe
Money in minutes
OYE
Get up to Rs. 1,00,000 /- without any documentation process and repay the same within 30 days. You need to provide one scan copy of address proof, photo proof and photo with aadhar card. Only you have to give 100 rupees' stamp duty and have to put sign on that stamp paper. After one month you have to return as Rs. 1,03,379/- (1000 => processing fees + interest 2499 rupees). The hole process you to take maximum 2 hours. After completing verification process, they will deposit loan amount into your account directly. If you shop the above loan amount in amazon, you can repay it with 3 EMI and without interest. You must get minimum 10,000 per month salary. Click this.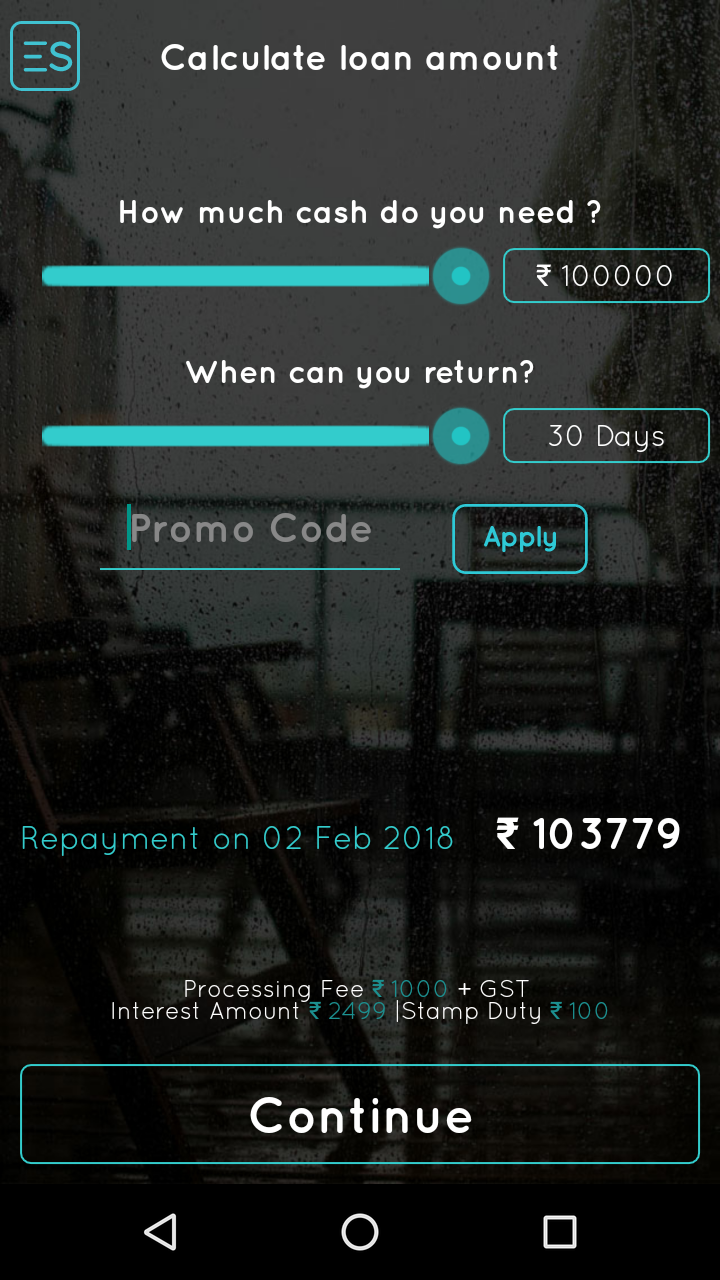 Get Rs 100 by referring your friend in early salary after his first success full loan.
Money view Loans:
Get up to 3,00,000 loan approvals instantly. To get qualify, you have to get at least 15,000 rupees salary per month. You need to submit the copy of the following documents
Pan card
Address proof
Cheque leaf
Income proof
White sheet of paper and block pen
They are offering loan based on your CIBIL score and monthly in hand salary; you will be charged 1,500 or 2.5 % of your loan amount as processing fee. You can repay the same in 9 month EMI or 12 month EMI. This sector gives higher amount with higher interest rate. I got approved for 40,000 and I have to repay the same as Rs. 45342 + 1500 for 9 months EMI and for 12 months EMI 45996 + 1500 /-. Click this to get the app
Flexsalary:
Their sign up process is too long as compared with other services. They offer us up to 2,00,000 instant approvals. They do not charge interest for first 7 days, no processing charges, there is no fixed EMI process. Ex: If you get Rs. 40,000 and repay the same by Rs. 41060 in one month EMI. But be careful with them while doing sign in their documents. Click this to get the app.
IndiaBulls Dhani:
This is another interesting online loan service network. Get up to Rs. 30,00,000 loan instantly. They give up to 48 months' time period to repay your loan. But the interest rate is depending upon your EMI. Higher period results your higher interest rate. Ex: For Rs. 1,00,000 with tenure of 48 months with EMI of Rs 3,043 => Rs 1,46,064 as repay amount. For the same amount with 12 months 9,264 EMI => Rs 111168 as repay amount. For online verification you have to login in to your net banking where you deposit your salary. All process takes less than an hour. They do not charge any processing fee. Click this.
Those who want more money with higher EMI period, they can try this app. But before doing sign on any document read their terms and condition carefully.
ATL (Any Time Loan):
This is the platform for both lending and borrow money (invest on people). Get the loan amount up to maximum 50,000. This is a single EMI based services (max 30 days). They have some documentation process for Salaried and self-employed.
Salaried:
Pan card
Present address proof
Last 3 month pay slips
Last 6 months' bank statement
Proof of occupation
Non salaried:
PAN card
Present address proof
Last 12-month bank statement
Business address proof
Proof of business.
You have to upload scan copy of all above said documents. It will take 30- 120 minutes to complete their verification process. After completion they deposit the loan amount to your registered bank account. They charge ROI (Return On Investment) as 0.05 % for Rs. 1000 for one day. Click this.
For Full amount: Rs. 50,000/- see the fees below.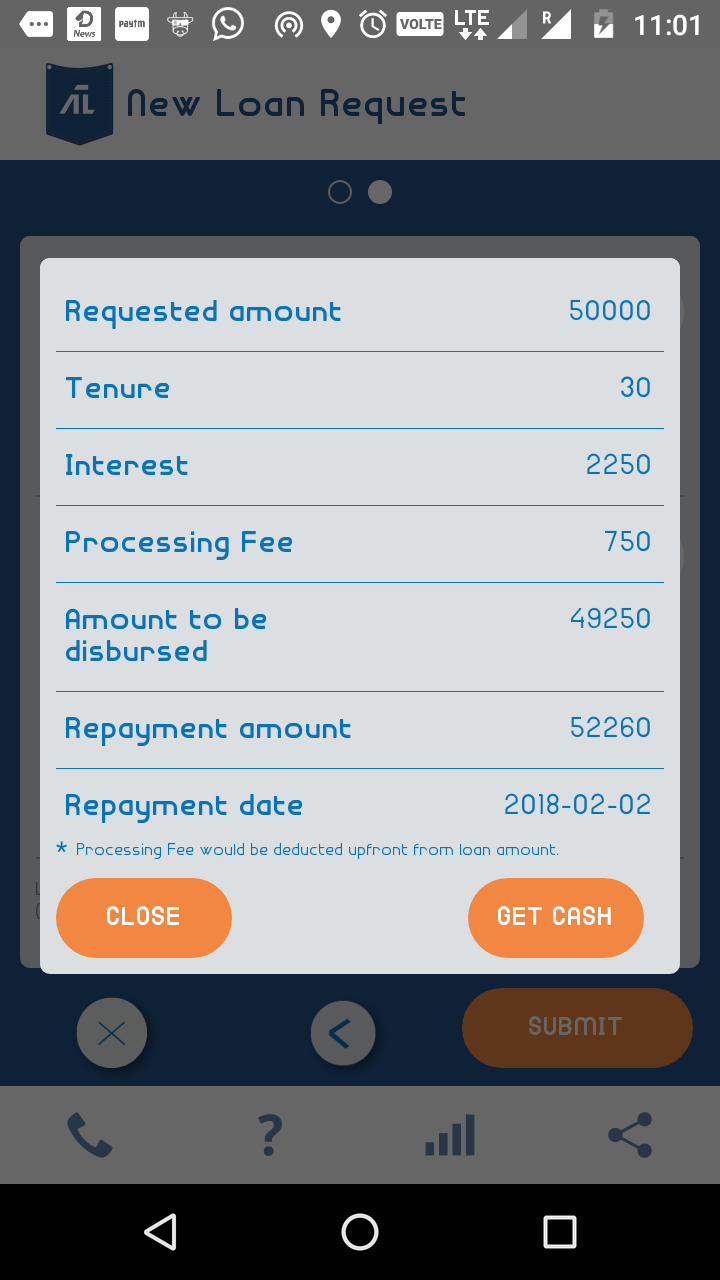 Z2P:
They also have both lending and borrowing business. it gives repay deadline of 30 days from the day of loan disbursement. It does not have physical verification process & paper less. They transfer your fund within 24 hours. Guys they do not have transparency on fees amount and their system displays processing fees after your KYC documentation upload. This is not a fair way of giving KYC documents online. They can sell your documents copy to anyone. Click this
Note: Please do not go Z2P at all. Those who want emergency money who can apply in this platform. (no care about their documents)
Shubh loans:
Get load amount from 25,000 to 3,00,000 with paperless and any salaried employee with at least 6 month of experience and getting salary of Rs. 15,000 or above per month in a bank eligible for loan. They charge a processing fee of upto 3 % + GST is debited before the loan is disbursed. For your loan amount interest rate as per your CIBIL. Lowest interest for high credit score and high interest for low credit score. Click this.
Document for this
Last 6-month salary account bank statement
KYC documents
Cancelled Cheques of your salary account
They do not provide loan for self-employed people.
Cashe:
Get up to Rs. 1,00,000 loan amount. You must have Rs. 15000/- salary per month to eligible their loan scheme. They offers loan for the period of 15,30, and 90 days and interesting rates are according to the periods. Processing fee and interest rate changes will be deducted at source. They need copy of pan card, address proof, latest salary slip and latest bank statement with salary credit. See their processing fee below.. Click this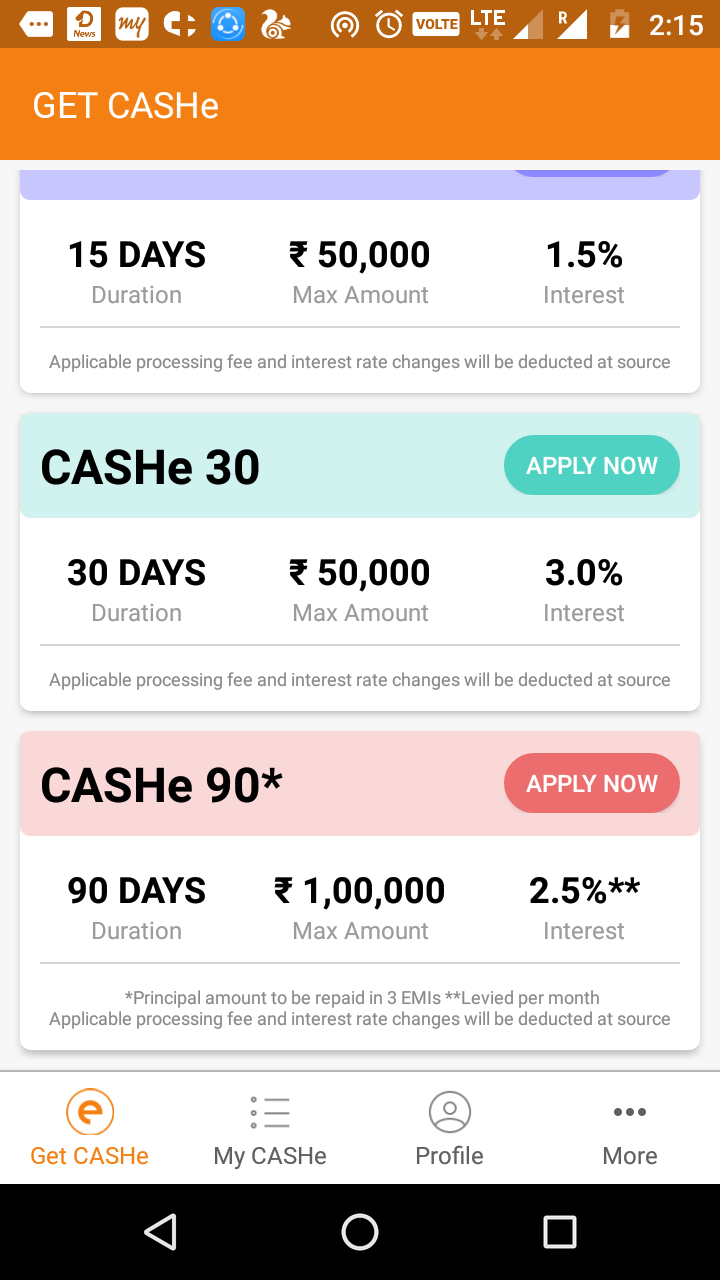 Money in minutes:
Borrow from Rs. 5,000 to 1,00,000 and repay it from one day to six months'. They need ID proof, address proof, last six-month salary bank statement, last month salary slip, latest electricity bill and one cancelled cheque leaf. Your loan disbursed with in four hours. To qualify their loan scheme, you must be a full time employed with minimum salary of 15,000/- per month. Processing fee as given below.. Click this to get.
OYE:
They offers from Rs. 10.000 to 1,00,000/-, get the same within 2 days. Interest rate of 2.1 % per month for 12 month EMI and processing fees of 3 % will be deducted at source. They require copy of the following documents PAN card, aadhar card, address proof and last 3-month bank statement. Click this.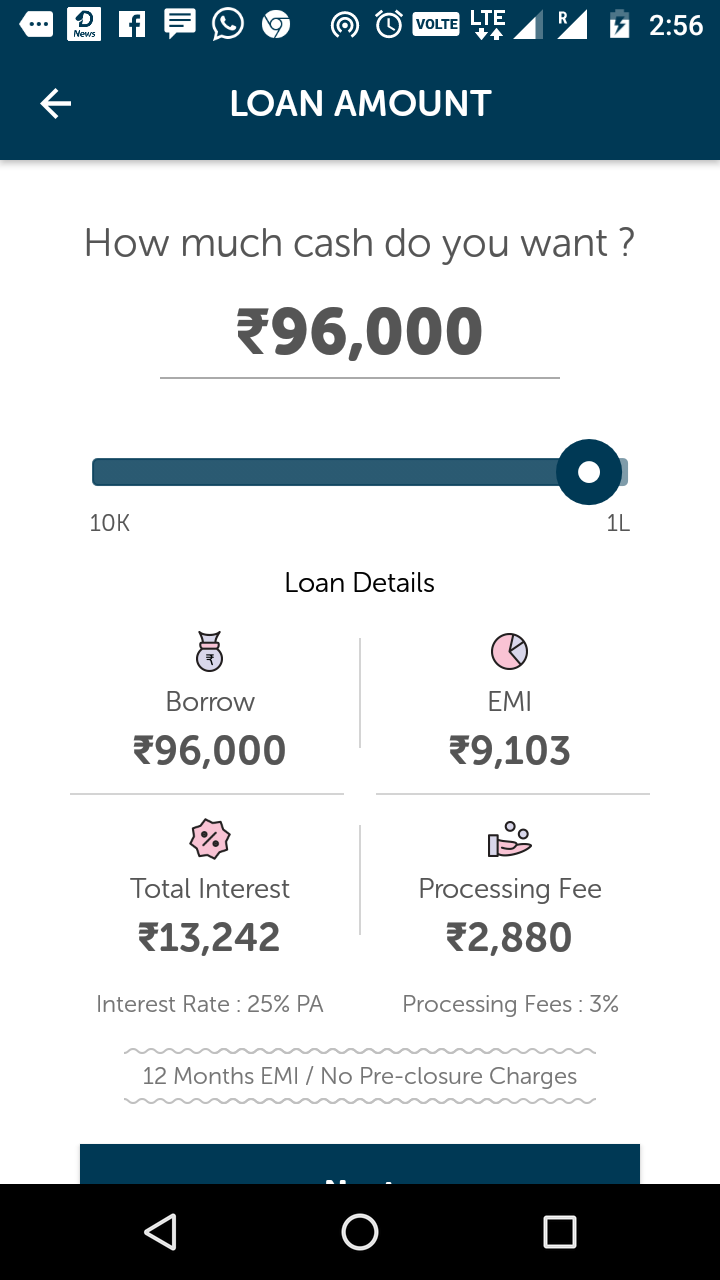 Conclusion:
Use above future on any emergency time like hospitality needs, marriage functions etc. but before doing any documentation sign, read their terms and condition carefully. If you do not want loan, please do not pre upload your KYC document. Provide exact bank details or Paytm account number to transfer money.
Get more Trusted sites: More Money earning apps and website trusted and with Payment proof
Thanking You!!! Have a Nice Day….